Nomad HD Wheeled Robot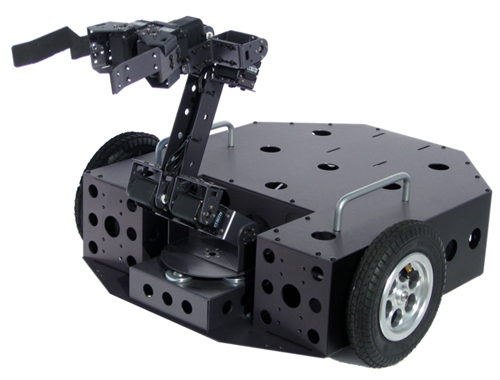 Free Shipping on select models!
Order yours below!
New for 2010 is the Nomad HD (Heavy Duty), 2-wheel drive robotic platform. We packed the Nomad HD with a ton of features not seen on any other wheeled platform including:
Hefty deck space measuring 18in (45.72cm) X 14in (35.56cm)
A 4in (10.16cm) deep body well for lots of electronics and batteries
Easily accomodates most laptop computers
A "Robotic Arm Deck" which accepts our SG5-UT, SG6-UT and AX12 Smart Robotic Arms
All robotic arms can rotate 360 degrees within the Robotic arm well
A payload capacity of more than 10+ pounds
Integrated Pem nuts for strength and ease of construction
Slots and holes strategically located for wire routing and hardware add-ons
Grab handles for easy pickup
Treaded, 6 inch(15.24cm), inflatable tires for excellent traction and quiet operation
The dual front panels readily accepts our S3 Tilt/Pan systems for single or dual sensor/camera operation
Add GPS and Compass modules as part of a robust navigation system
Are you a School, University or Business?
Click here
to go to our purchase order page with information on how to place your purchase order with Crustcrawler
Pictures