AX-12 Dual Robotic Gripper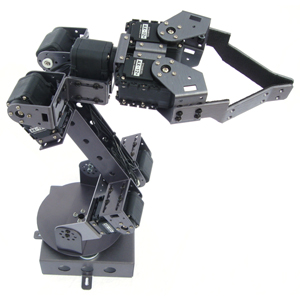 Photo shows Dual Gripper on AX-12 Smart Arm.
AX-12 Smart Arm not included in this kit.
Hardware kit - $69.00
Purchase
AX-12 Dual Gripper
The AX-12 Dual robotic arm gripper design is ideal for a myriad of robotic arm manipulation tasks that can be applied to all types of shapes. The 9" gripper opening and dual drive system which can accept either the AX-12A or the AX-18A servos, makes this our most versatile gripper option for the AX-12 Smart Robotic Arm. All aluminum parts of the AX-12 Dual Gripper have our unique integrated PEM nuts which makes for quick and easy assembly.
AX-12 Dual Gripper Documentation
Assembly Guide
AX-12 Dual Gripper Technical Specifications
Gripper Maximum opening – 9"
Gripper Length – 4"
Gripper Drive train - (2) AX-12A or AX-18A Servos
Material – 5052 Aluminum / Type II hard anodized - Gun barrel gray
AX-12 Dual Gripper Pictures
FlexiForce Sensor

The active sensing area is a .375" diameter circle at the end of the sensor. The conductive leads are easy to connect to a breadboard or through-hole area. The Flexiforce has an ideal output for A/D conversion - 0V is no force and 4.2V is 100 lbs. The RCTIME command may be used with a LOOKUP table or calibration formula to execute some math to make the output useful.

Flexi Force Documentation and Code for the STAMP