ROV\UAV Thrusters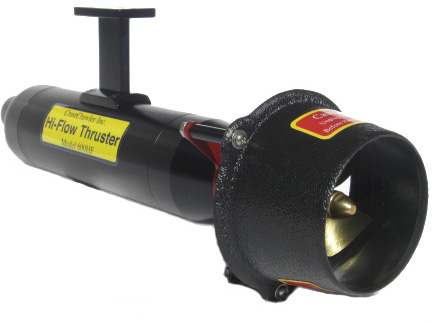 600HF ROV / UROV Thruster shown with optional
thruster mounting bracket
Ask about our School and University
discounts!
600HF UROV Thruster Technical Specifications
3000ft (1000m) depth rating
Oil compensation optional
Features Seacon "Wet Mate" male and female connectors with a depth rating of 10,000 feet
Type 37 Kort Nozzle engineered for maximum thrust
2.36"(60mm)", 4 blade, brass propeller mated with a aluminum propeller adapter generates 15 pounds of thrust from 24 to 50 volts
Propeller is efficient in both forward and reverse thrust
Type III hard anodized finish for maximum corrosion resistance in salt and fresh water
Rugged 6061 aluminum thruster housing
Powerful 600W brushless motor with a 4.28:1 gear ratio
Operates in all of the popular UAV/ROV voltage ranges from 12 to 50 volts
High reliablity, low maintenance design
Optional Thruster Mounting Bracket for easy "bolt on" installations
Excellent choice for all commercial UROV/ROV applications and

MATE, Robosub and FIRST

robotic competitions!
Our Customers Include: SeaBotix, Sea-Con, Naval Research Laboratory, U.S Naval Academy, Institute of Maritime Technology, Alyeska Pipeline Service Alaska, DHI Water and Environment, Doetsch Environmental, Cranston Technical Center, Georgia Tech, U.S Forest Service Products Laboratory and many more!
Are you a School, University or Business?
Click here
to go to our purchase order page with information on how to place your purchase order with Crustcrawler
Hi-Flow Thruster and ETC Configuration Software
Ships with the following:

600HF Head w/Right Hand Prop

(1) Factory pre-built and tested 600HF-Flow Thruster Replacement Head with Right Hand Propeller
Everything you need to quickly replace the thruster core motor / thruster head in less than 30 minutes
Protect your investment in the field with these easy to install motor / thruster head replacements

Ships with the following:

600HF Head w/Left Hand Prop

(1) Factory pre-built and tested 600HF-Flow Thruster Replacement Head with Left Hand Propeller
Everything you need to quickly replace the thruster core motor / thruster head in less than 30 minutes
Protect your investment in the field with these easy to install motor / thruster head replacements

Ships with the following:

Phoenix ICE2 60HV UROV Electronic Thrust Controller 50V Rating - Potted

(1) Phoenix ICE2 60HV UROV Waterproof Programmable Electronic Thrust Controller (Max 50V) with data logging
Contains custom firmware developed specifically for Crustcrawler's 400HFS-L and 600HF thrusters with foward/reverse, soft start and reverse throttle amount features
New data logging feature provides data aqusition for Voltage, Ripple, Current, Amp hrs., Watts, Temperature, motor RPM, Throttle In and Power Out
Dimensions - 4.75in X 2.71in X 1.50in (12.06cm X 6.88cm X 3.81cm)

(1) Phoenix 120 Users Guide

Ships with the following:Save 10%

Phoenix ICE2 60HV UROV Electronic Thrust Controller 3- Pack - Potted

(3) Phoenix ICE2 60HV UROV Waterproof, Programmable Electronic Thrust Controllers (Max 50V) with data logging
Contains custom firmware developed specifically for Crustcrawler's 400HFS-L and 600HF thrusters with foward/reverse, soft start and reverse throttle amount features
New data logging feature provides data aqusition for Voltage, Ripple, Current, Amp hrs., Watts, Temperature, motor RPM, Throttle In and Power Out

(1) Phoenix User Guide

Ships with the following:

Phoenix ICE2 60HV UROV Electronic Thrust Controller - Non Potted

(1) Phoenix ICE2 60HV UROV Programmable Electronic Thrust Controller (Max 50V) with data logging
Contains custom firmware developed specifically for Crustcrawler's 400HFS-L and 600HF thrusters with foward/reverse, soft start and reverse throttle amount features
New data logging feature provides data aqusition for Voltage, Ripple, Current, Amp hrs., Watts, Temperature, motor RPM, Throttle In and Power Out

(1) Phoenix User Guide Phoenix Dimensional Information

Ships with the following:

Hydra ICE2 200 HV2 with Data logging

New!

(1)Hydra ICE2 200 HV2 Programmable Electronic Thrust Controller with data logging(Max 50v)
New data logging feature provides data aqusition for Voltage, Ripple, Current, Amp hrs., Watts, Temperature, RPM, Throttle In and Power Out

(1) Hydra ICE 200 HV2 Users Guide

Ships with the following:

Electronic Thrust Controller Programming Kit (etc-pc)

(1) Electronic Thrust Controller Programming kit with USB interface
(1) Instruction manual

Ships with the following:

Parallax Propeller Servo Controller

(1) Parallax Propeller Servo Controller
** Control up to 16 thrusters from a single PSC using our Electronic Thruster Controller or any brushlless motor controller! **
The Parallax Servo Controller Interace (PSCI) is a Windows application that interfaces directly with the Parallax Propeller Servo Controller (PSC). PSCI provides quick and easy control of up to 16 thrusters (PSCI manual)

Ships with the following:

Hi-Flow Thruster O-ring replacement (HFT-or)

(2) Hi-Flow Thruster O-ring replacements

Ships with the following:

Pressure Compensation Kit (HFT-pc)

(1) Brass hose adaptor with o-ring
(2) Brass hose clamps
(1) 6" tubing
(1) Brass tubing end cap

Ships with the following:

Sea-Con Connector -22" (HFT-con)

(1) Female Sea-Con Connector for use as a hull penetrator or for a replacement for the rear thruster cap with 18" 16AWG wires

Ships with the following:

Sea-Con Connector for Rear Thruster Cap with 30" cable (HFT-cable)

(1) 30" Male Sea-Con Cable
Connector has (3) 16AWG wires

Ships with the following:

Spare Kort Nozzle

Ships with the following:

White Lithium Grease

(1) 8oz.(277grams) White Lithium Grease
(1) Grease applicator

Note:

The grease and applicator kit is required for all 600HF and 400HFS-L Thrusters